MPEC members made their voices heard during this legislative session.  Over 50 MPEC and AFT Healthcare members participated in three lobby nights during the 2017 legislative session. Members spoke with legislators about important topics to state employees, including investing in Maryland and valuing state employees, improving indoor air quality and working conditions for state employees.  Still, the Governor did not include raises for state employees in this year's budget.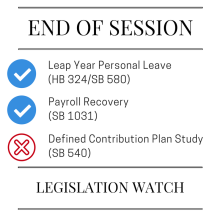 Sine Die, marking the end of the 2017 legislative session, is on Monday, April 10.  Here are the bills to look out for as the session comes to a close.  
Leap Year Personal Leave (HB 324/SB 580): This bill would provide an additional personal leave day during a leap year. This bill has passed both chambers.  
Payroll Recovery (SB 1031): The bill headed to the Senate floor Thursday, April 6.  
Defined Contribution Plans (SB 540): We oppose creating a study of alternatives for the current defined benefit pension system.  We know that these proposed alternatives just don't add up for Maryland workers and families.