Poor indoor air quality is a major issue in state-owned and lease buildings. Because there is currently no standard for indoor air quality in MD, MPEC is unable to hold the state accountable for the issues members are suffering due to poor conditions in their work buildings.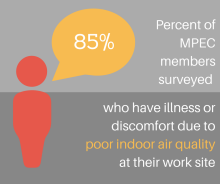 MPEC is working to change that. We're starting with documenting the problem.
Interested in joing the Indoor Air Quality committee? Sign up here.
Find out more about how MPEC is working to create an indoor air quality standard here: iaq_pp_4.27.17_training.pptx