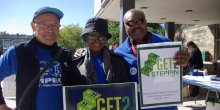 Maryland Professional Employees Council was front and center at the State Center worksite, engaging members, talking to union activists, and rallying the bargaining unit for upcoming economic negotiations. The union chose the Farmers Market as the day to be on the street talking to members who were out and about. MPEC leadership and staff explained to all state workers what the union had done to get cost of living adjustments and to get the one-time bonus money for state workers.
Many members and state workers were unaware of the union's hard work. They were under the impression these were gifts from Gov. Hogan and the Hogan administration. These were hard earned and hard fought wins by the Maryland Professional Employees Council. As MPEC enters economic negotiations with Governor Hogan's team, the union drummed up support for their collective goals. Member took pic-n-quotes with what they'd do with more money via STEP increases. Currently Maryland state employees are paid less than neighboring state employees despite the state having a budget surplus.
Higher pay and STEP increases are just two of the issues the union will be fighting for at the negotiation table. The union wants and needs members' help. We need to show Gov. Hogan the strength of the mighty MPEC in our worksites and in Annapolis.
For more photos from the event, visit our Facebook page.
2018-10-17