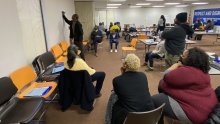 Stewards are the lifeblood of any union. That's why it's of the utmost importance that unions offer training to continue to develop and strengthen their stewards. The Maryland Professional Employees Council Local 6197 (MPEC) hosted their stewards for training on Tuesday, March 14, 2023. The training covered a wide range of topics, informing those in attendance of the responsibilities of stewards. 
Different experiences inspire public employees to come off of the sideline and volunteer to work on behalf of themselves and their coworkers. Teacher Bennett Robley described why he's stepping up to be a steward at his worksite. "We are working in facilities such as prisons and mental health facilities where there's added danger and we are not even remotely close to being compensated to reflect the additional duties. Many of us are doing the workload of two or three teachers. Ultimately the only way we're going to facilitate change and create environments that are safe for students, is if we work with the union."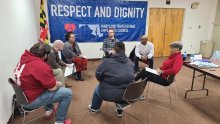 Robley isn't the only one ready to take a more active role in MPEC. Raquel Meyers is an assistant executive director in the Department of Labor who has been a member since 2011, after moving from a contractual to a permanent position. She shared that in the past, she had problems and didn't know how to access the union as a support mechanism. "There's been a lot of issues in my agency that have come to my attention… I feel like new employees as well as the ones who've been seasoned, need to be made aware of what are their rights, and what the union can do for them." 
Those in attendance learned that MPEC trains our stewards to be leaders, organizers, communicators, and representatives. At work, stewards often serve as the face of the union in the workplace. They are examples of honesty, solidarity, and trust who motivate others. Additionally, stewards are the point of engagement for coworkers who become new members. Effective stewards inspire coworkers to join and are effective at member-to-member engagement. The training offered stewards strategies to develop and reinforce these skills so they can be maximized at the workplace. Moreover, stewards serve as the vector of communication between the union's executive board and rank-and-file members. Attendees simulated conversations with colleagues to practice and reinforce effective communication skills. 
---
MPEC sends out a big Thank You
to all of the stewards who stepped up
and participated in the training!
---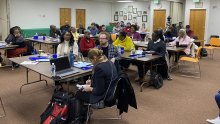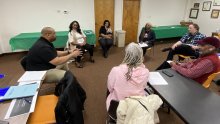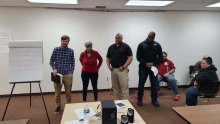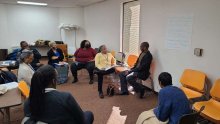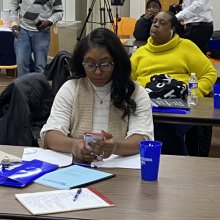 2023-03-24