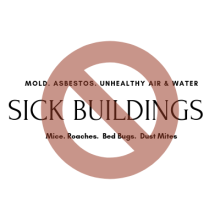 MPEC Officials and staff are working to ensure your physical and mental well-being are taken into consideration as DGS officials work to resolve the problem of bed bugs at the 201 W Preston building. Last Friday morning,
MPEC President Jerry Smith
requested safe accommodations for employees working at the 201 building.
(Click here to view request.)
While the issue of bed bugs is our immediate concern, the overall condition of state center buildings is "SICK". Mice, roaches, signs of asbestos, bad drinking water, and unhealthy air must be addressed. There have been talks of rebuilding state center but NO ACTION!! It is past time to relocate employees. Addressing the environmental conditions of the buildings that comprise the State Center Complex will not become a priority until we act!!
We have invited elected officials to hear from you on September 4th @ 12 noon in the 300-bldg. auditorium. At this meeting we will also provide updates on our request for safe accommodations. If you desire a healthy workspace your presence is required, there is strength in numbers!!!
RSVP HERE: https://actionnetwork.org/forms/make-state-building-conditions-a-priority/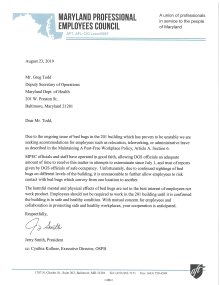 .