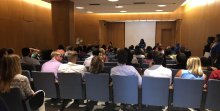 Members made their voices heard regarding the work environment at the Maryland Department of Health. The facility has a wide range of environmental challenges that affect members, but the most recent one to cause a stir was a bedbug outbreak. The state told the union that it has treated the facility for bedbugs, but members want a full, one-time fumigation of the building. Additionally, members are also calling for the state to pay for any costs employees incur for removing bedbugs they brought from work to their personal residences.
The meeting was wide-ranging as members expressed frustration at a host of other issues, as well. Among the other issues members were concerned about was the lack of cleaning and maintenance done to the air ducts. The state suggests that the ducts have been cleaned, but members report major health and wellness challenges (particularly respiratory issues) on account of the dirty ducts. This has also resulted in generally poor air quality in the building. Some folks addressed the general dirt and filth of the building including bathrooms, namely on the S-level, but throughout different parts of the building.
MPEC has been in consistent conversation with the state and often reports back what the state is saying about the health and cleanliness of the facility. Often, what the state says in these meetings contradicts members' reality. MPEC partnered with fellow AFT-Maryland union AFT Healthcare Maryland to host this meeting to address issues, and brought in officials from Congressman Elijah Cummings' office to hear from the members about the squalid working conditions. Additionally, the union will be reaching out to state elected officials to hold the Department of General Services (DGS) accountable for providing state employees a better and more healthy work environment.