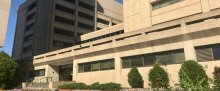 Members are concerned with the recent work environment challenges at the
Maryland Department of Health
. Bedbugs were reported to be in the building and members are worried about the many health challenges that presents. In response, MPEC held a union meeting to update members on what we have heard from the state as well as to hear from members what they are experiencing. Organizer
Felicia Hawkins
led the meeting that drew dozens of people during their lunch break.
Members were updated on the discussions between the state and MPEC. The state has said the outbreak has been contained and the rest of the work is preventive in nature. Members expressed skepticism that the outbreak has been contained. Ms. Hawkins conveyed to members that the union is happy to take the state to task if what our members are saying is inconsistent with what the state is reporting, but she needs documented evidence from members. Currently the state does not have a pest-control contract. One member responded, "If there's not a pest control contract, someone is dropping the ball."
MPEC is working with members to develop a plan of action to present to the Department of Budget and Management (DBM). We want to present DBM with not only challenges but solutions as we seek to work with the state to ensure members have a safe and healthy work environment. Many suggestions were shared by members including creating a standard operating procedure for reports of bedbug infestation. MPEC members proposed cleaning of the carpets and air ducts at least once a month. Currently members report only seeing carpets cleaned bi-annually if the budget permits.
MPEC is committed to ensuring that members have safe and healthy work environments. If you feel your work environment is unsafe, contact MPEC offices immediately.
2019-08-19