The 2017 Maryland Legislative session has ended and the Governor's budget did not include a COLA or funding for step increments. Still, the legislature did move forward on some bills that benefit state employees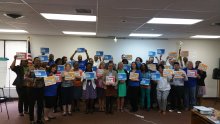 Leap Year Personal Leave (HB 324/SB580) will provide an additional personal leave day during a leap year.  State employees should not be forced to take a pay cut during a leap year.  
Payroll Recovery (HB 1144) passed.  Under this legislation, those harmed in the "Workday" rollout after March of 2016 will have the month of July 2017 to file a grievance for lost wages. Going forward, state employees will have 20 days to file a grievance. The bill has a sunset provision and, unless it is reauthorized, will expire after 2 years.
Defined Contribution Plans (SB 540), which would study an alternative to the defined benefit pension system, was defeated -- along with several other harmful pension bills. We know that the alternative pension schemes just don't add up. If the state makes its required pension obligation payments, and gives previous reforms the chance to work, the pension system will remain on a path to stability. There is also a budget narrative that requires a report about the cost and benefits of returning to five-year vesting. That report is due in October of this year.
The Maryland Healthy Working Families Act (HB 1) passed and was sent to the Governor. This bill will require that an employer with more than 14 employees to provide one hour of paid sick and safe leave for every 30 hours worked up to a maximum of five days. This legislation will affect state contractual employees.  Additionally, it affects non-contractual employees by allowing for the use of leave related to domestic violence and expanding the definition of "family member."
For each the three bills that passed the General Assembly, the Governor now has three options: (1) sign the bill into law; (2) let the bill become law without his signature; or veto the bill. We urge the Governor to sign these three bills into law.