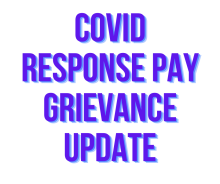 Group grievances were filed for certain classifications believed to be eligible for the COVID-19 response that DBM did not include. The grievances include:
MPS- Park Rangers
MLGCA- Compliance Officers
DOL- Correctional Educators
MSDE- Correctional Educators
These classifications were not allowed to telework, and their job duties required serving the public throughout the pandemic. 
The grievances were transmitted to the Office of Administrative Hearings (OAH) on July 13, 2021. We are currently awaiting hearing dates for all cases.
If your job duties required you to serve the public during the elevated level 2 and level 3 operations, and you are NOT one of the classifications already named in the grievance, please complete the Response Pay form if you believe DBM should have included your classification.