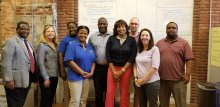 Thought you were done voting? Think again!
MPEC will be hosting a Ratification Meeting to VOTE up or down the FY 2019 Economic Re-Opener Memorandum of Understanding.
Hosted by:
Jerry T. Smith, MPEC President, and
Jacquelyn R. Raines, MA., M.Ed., Executive Director & Chief Negotiator
---
Ratification Meeting
Saturday, December 8, 2018
10:00 a.m. to 12:00 p.m.
Baltimore Teachers Union
5800 Metro Drive
Baltimore, MD 21215
ALL Unit G MPEC Members are welcome to attend and VOTE!
---
Click below to view the Amendment to the MOU.